The massive event has undoubtedly hit some obstacles and speed bumps along the way, but with Brock Lesnar, Mark Hunt, Anderson Silva, Daniel Cormier and two title fights on the main card alone, this remains one of the most anticipated events in the company's history.
Brock Lesnar last stepped into the Octagon in December 2011, but the former UFC heavyweight champion is ready to resume his MMA career.
The UFC announced Lesnar has agreed to return for a fight at UFC 200 on July 9 in Las Vegas, per MMA Fighting's Ariel Helwani. The company has yet to announce his opponent.
Earlier Saturday, Helwani reported discussions were taking place between the UFC and Lesnar regarding a return.
Get Your Desirable Channels Here:
Card starts at 10 p.m. ET on PPV
Heavyweight: Cain Velasquez vs. Travis Browne
Featherweight: Jose Aldo vs. Frankie Edgar (for interim featherweight title)
Light Heavyweight: Daniel Cormier (C) vs. Anderson Silva (non-title bout)
Heavyweight: Brock Lesnar vs. Mark Hunt
Women's Bantamweight: Miesha Tate (C) vs. Amanda Nunes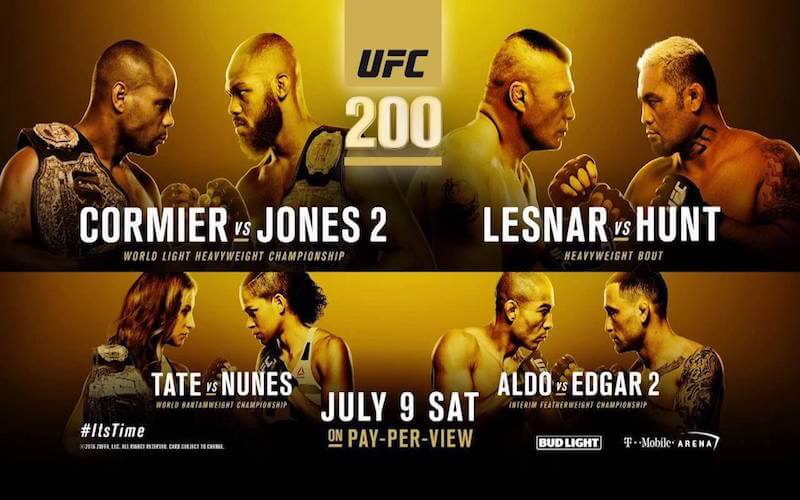 WWE released a statement on Lesnar following the announcement:
"[Lesnar] remains under contract to WWE, however, he has been granted a one-off opportunity to compete at UFC 200.  Following this milestone event on July 9, Brock will return to WWE for SummerSlam on Sunday, August 21, live on WWE Network."
UFC posted a promotion video for UFC 200 featuring Lesnar at the end.
Lesnar initially left WWE in 2004 to pursue a career in the NFL. After he fell short of making the Minnesota Vikings roster, the former University of Minnesota NCAA heavyweight champion decided to try mixed martial arts.
He joined the UFC in 2008 and quickly became a top box office draw. He defeated Randy Couture for the heavyweight championship in just his third UFC fight, and while he helped the company to some huge pay-per-view numbers, he left after a loss to Alistair Overeem in 2011 as diverticulitis prevented him from reaching his potential.
Lesnar went back to WWE in 2012 and made a major impact. In addition to ending The Undertaker's undefeated streak at WrestleMania XXX in 2014, he became WWE world heavyweight champion by beating John Cena later that year.
The Beast Incarnate was also part of the main event at WrestleMania 31 against Roman Reigns, but despite his spot atop the card in WWE, rumors persisted about his return to the UFC upon the expiration of his contract.
Even with whispers reaching a fever pitch in December 2014, UFC President Dana White denied having any contact with Lesnar, per John Morgan of MMAJunkie.com.
According to Dave Meltzer of the Wrestling Observer Newsletter (via Matt Boone of MMANews.com), Lesnar started to shed weight that month in preparation for a return to the Octagon. Meltzer added that Lesnar's altered appearance led WWE officials to believe he was leaning toward a UFC return as well, per Morgan.
"The Lesnar people always keep things quiet, but within the company, the belief is that he's going back to UFC, and his showing up lighter to TV last week confirmed that to people who thought it," Meltzer wrote.
Speculation of a UFC encore was fueled even more at the end of February 2015 when Lesnar appeared at the UFC 184 card headlined by Ronda Rousey and Cat Zingano, as seen in this photo courtesy of MMAFighting.com.
The 38-year-old isn't getting younger, and his 5-3 career MMA record doesn't suggest he was an elite fighter to begin with.
Lesnar was a champion, though, and all signs point to him being 100 percent healthy right now. With that in mind, perhaps he is better equipped to succeed this time around than he was during his first UFC stint.
Regardless of how well he performs at UFC 200—a card headlined by Jon Jones and Daniel Cormier—he will make the company a lot of money for as long as he continues to compete. Signing Lesnar is a massive success for White, and it promises to be a lucrative move for Lesnar as well.
Fight Pass Preliminary Card
Card starts at 6:30 p.m. ET on Fight Pass.
Lightweight: Jim Miller vs. Takanori Gomi
Middleweight: Gegard Mousasi vs. Thiago Santos
Lightweight: Diego Sanchez vs. Joe Lauzon
---
Fox Sports 1 Preliminary Card
Card starts at 8 p.m. ET on Fox Sports 1.
Lightweight: Sage Northcutt vs. Enrique Martin
Batnamweight: T.J. Dillashaw vs. Raphael Assuncao
Welterweight: Johny Hendricks vs. Kelvin Gastelum
Women's Bantamweight: Cat Zingano vs. Julianna Pena
UFC 100, the most purchased pay-per-view in the fight promotion's history, took place just less than seven years ago.
It was headlined by the most marketable heavyweight to date, Brock Lesnar, in a rematch with the man who ruined his promotional debut at UFC 81, Frank Mir. The co-main event featured perhaps the most likable champ in company history, Georges St-Pierre, taking on then-top contender Thiago Alves. The third fight pitted the All-American Dan Henderson opposite British spitfire Michael Bisping. Even Jon Jones was on the card, lurking on the prelims, in only his third UFC fight.
In more than three months on July 9, UFC 200 will go down. Given the grandeur of UFC 100, it's only natural the brass will want to go even bigger for its bicentennial pay-per-view event.
So who will headline the fight card? How will they fill out the rest of the main card?